Saturday 7 October 2023, 3pm-4pm, Adults
Talk: Real to Reel: A History of Claddagh Records
Free admission | Booking required
Garech Browne by Perry Ogden
Join us for a special talk exploring the fascinating history and legacy of Claddagh Records, one of Ireland's oldest and most iconic record labels.
James Morrissey, chairman of Claddagh Records and an author of a book Real to Reel: Garech Browne & Claddagh Records, will give a unique insight into the extraordinary life of Garech de Brún, one of the founder of this renowned record label who made it his life's work to preserve Ireland's musical and spoken-word culture. In his talk, he will also discuss the Mayo roots of Garech Browne as well as Claddagh Records' plans for the future.
This special talk takes place at 3pm on Saturday, 7 October. Admission is free but booking is required. Telephone the bookings office on +353 94 90 31751 or book now by email.

About the speaker
James Morrissey is a leading communications consultant and the author of several books. A former award-winning journalist, he was a founder of the The Sunday Business Post. His previous books include Inishbofin (Crannóg Books, 1987), Hot Whiskey (The Kerryman, 1989), On the Verge of Want (Crannóg Books, 2001), A History of the Fastnet Lighthouse (Crannóg Books, 2004), Inishbofin and Inishark (Crannóg Books, 2012), Omey (Crannóg Books, 2018) and The Bee's Knees (Currach Books, 2020).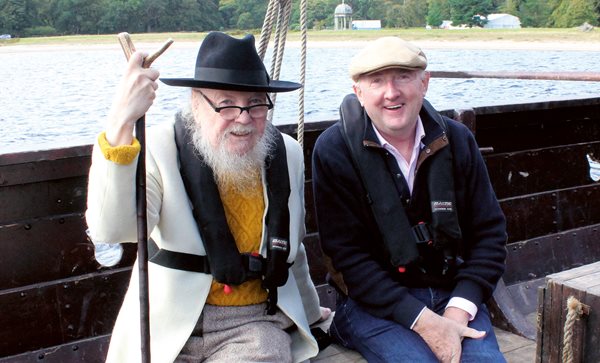 Image: Garech Browne and the author James Morrissey on the set of the Vikings TV series.


Location:
---
Talk: Real to Reel: A History of Claddagh Records is located at:
Turlough Park,
Castlebar,
Co. Mayo
F23 HY31
---
Discover the fascinating history of Claddagh Records and learn about the extraordinary life of its founder Garech Browne.
Country Life
Turlough Park,
Castlebar,
Co. Mayo,
F23 HY31

+353 94 903 1755