Saturday 2 December 2023, 3pm - 4.30pm
Talk: Christmas and its Traditions
Free admission | Booking required
The fresco "Nativity" painted by Giotto in the Scrovegni Chapel in Padua.
Get into the Christmas spirit and rediscover the beauty of Christmas traditions as Salvador Ryan traces their origins and explores their manifestations in history, art, music and literature.
This special presentation will take place at 3pm on Saturday, 2 December. Admission is free but booking is required. Telephone the bookings office on +353 94 90 31751 or book now by email.

About the presentation:

For many people, Christmas is the most special time of the year. Its traditions run deep, and are often filled with precious memories. The familiarity of our Christmas customs are often a comfort, and for many people, the sights and sounds of Christmas are highly evocative of the past. But sometimes we are so familiar with elements of the Christmas story, and the traditions which developed from it, that we can almost take them for granted. But these traditions had to start somewhere. Where did they come from? What is the origin of our most cherished Christmas traditions? Some are very ancient, but others are relatively recent.

This presentation invites participants to embark on an interactive journey of discovery to uncover the roots of the most familiar aspects of the Christmas story. On this journey participants will encounter ancient writings, learn how these influenced artistic developments through the Middle Ages, and will come to a better understanding of the content of the Christmas carols we traditionally sing, the Christmas cards we traditionally send, and the Christmas plays we traditionally attend. The presentation aims to enrich our understanding of Christmas and its traditions, while having fun along the way (and, yes, we will get to sing some carols!).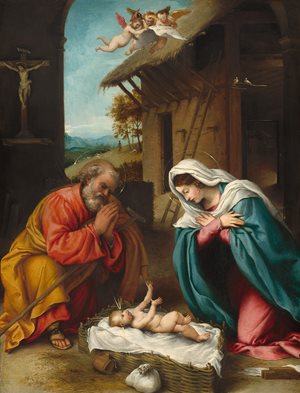 Image: Lorenzo Lotto, "Adoration of the Christ Child", The National Gallery of Art in Washington, DC.

About the speaker:

Salvador Ryan is professor of ecclesiastical history at St Patrick's Pontifical University, Maynooth, where he teaches courses on the history of Christianity. He has published widely on various aspects of social, religious and cultural history, writes regularly for the Irish Independent and Irish Times, and is a frequent media contributor. He particularly enjoys sharing his passion for history with general audiences, in an engaging, informative, and light-hearted style. His latest book, Christmas and the Irish: a Miscellany, is published by Wordwell Press.
Location:
---
Talk: Christmas and its Traditions is located at:
Turlough Park,
Castlebar,
Co. Mayo
F23 HY31
---
Embark on an interactive journey of discovery to uncover the roots of Christmas traditions.
Country Life
Turlough Park,
Castlebar,
Co. Mayo,
F23 HY31

+353 94 903 1755