Curator of Geology at the National Museum of Ireland - Natural History, Dr. Patrick Roycroft describes the many different groups involved and the brain stimulating activities that took place in our recent Down to Earth Open Day.

Down to Earth, Exploring Ireland's Geology works both as a major exhibition on Ireland's geology by the National Museum of Ireland – Natural History and also a celebration of 175 years of Geological Survey Ireland, formerly known as "the Geological Survey of Ireland". The exhibition opened in September 2021 at the Riding School in Collins Barracks (Dublin) and has been a major draw ever since, garnering some blushingly glowing praise from enthused visitors. It is due to run for at least another year. One of the great attractors is the enormous and colourful geological map of Ireland that greets the visitor; this and the very friendly geologist who is regularly on-hand to explain both it and whole exhibition. To cement the success to date of Down to Earth, NMI staff from the Natural History Division and the Education Division, plus staff from Geological Survey Ireland, decided to pull together a wide variety of other Earth science groups, and an art group, for a special Down to Earth Open Day. This took place on a sunny Saturday, 7 May 2022.

There were some thirteen activities for the public to enjoy and to engage with. So, who was there, and what were they doing? Met Éireann clarified questions about Irish weather and climate, led by the irrepressible Evelyn Cusack, while a few feet away the Dublin Institute for Advanced Studies had the public energetically jumping up and down to make their own earthquakes and realizing that Ireland does, in fact, experience real, if mostly harmless, genuine earthquakes. Teagasc got the public thinking about the health of Ireland's soils; ReCreate, in a fun and delightfully messy art workshop especially for kids, had parents and offspring alike demonstrating that art and nature is something that can be sustainable. And UCD-based research group iCRAG (Irish Centre for Research in the Applied Geosciences) took us on a looking-glass vision of minerals for the future.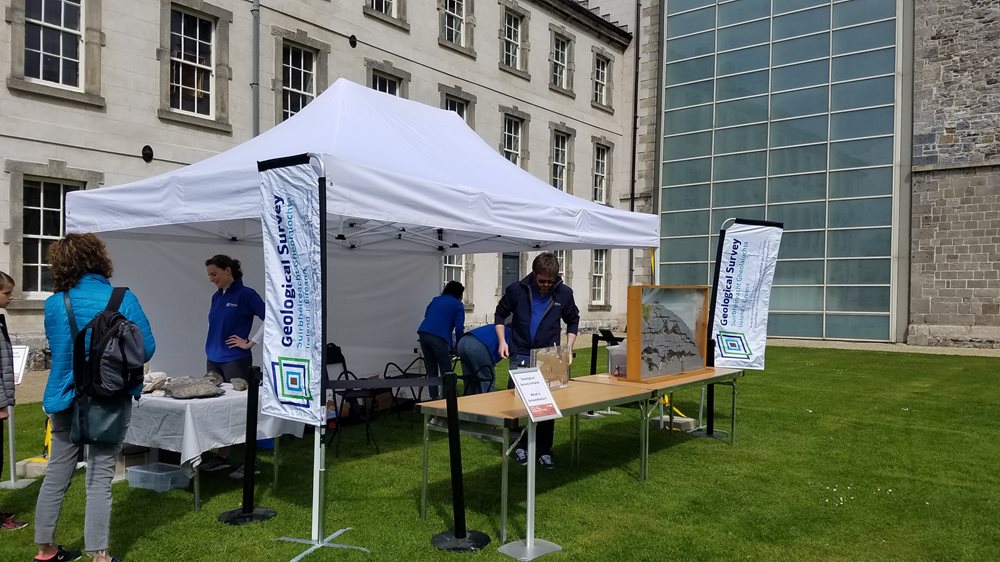 - Geological Survey Ireland set up some of their outside gazebo stands. Photo: Michèle Castiaux.
Given their status as partners in the Down to Earth exhibition, Geological Survey Ireland had multiple events happening, some inside the exhibition itself, some outside in gazebos on the lawns of Collins Barracks. There were spectacular fossils that wowed all who saw and touched them; there were demonstrations of how we map our seabed, map our land, and how we go about finding the minerals and metals that are the very foundations of modern society and that have allowed us to go 'from stone age to phone age'; there were demonstrations that showed us the hidden, but totally vital, world of our groundwater. And there was an attempt to demonstrate how crystals grow but, for some reason, the molecules just weren't playing ball!
The museum itself had the activity 'Stump the Geologist: Your Rocks Identified', which was me trying to identify any random rock brought in by any random member of the public. I love this activity: you never know what you'll face, and you can always tell somebody something they never knew. I had with me a special 'head-set magnifying glass' contraption – thereby making me look, at times, like a bulgy-eyed surgeon – which I used to examine the rock or mineral of the expectant submitter. Ironically, it was a member of the museum's own education staff who nearly did stump me.


- Some members of the Dublin Institute for Advanced Studies (DIAS) prepare their earthquake stand inside the Down to Earth exhibition area. Photo: Michèle Castiaux.
Everyone enjoyed the day; spirits were up. This was also the first significant event that allowed many of us, from the different organizations and institutions, to physically meet each other again since March 2020 and that first pandemic shutdown. My stand was near the exhibition's exit and, as such, I got to hear the comments of the visitors as they left: one lady was literally in a foggy daze of happiness at how much she had learned about Ireland and about all the people who are finding out more on a daily basis. The total number of visitors could have been higher, but those who attended were fulsome in their praise of the Open Day experience.

I heartily thank everyone who put in so much hard work to making this multifaceted Open Day a day to remember. Could there be a repeat in 2023 …?