The Board and Staff of the National Museum of Ireland were deeply saddened and shocked to learn of the death of our colleague and friend Matthew Parkes, who passed away suddenly on Friday 23 October.

We lost a cheerful, kind, experienced and energetic colleague, who always found time for the small things. He went out of his way on every public enquiry, particularly when identifying rocks and fossils for budding geologists of all ages. He developed a number of popular exhibitions and took part in many public events. The latest project will be delivered in 2021 as a major exhibition on Ireland's geology at the Riding School in the National Museum of Ireland at Collins Barracks.




We wish to extend our condolences to his family, particularly his wife Michelle and his brothers Roderick, Stephen and Malcom, sister Fiona, mother-in-law Freda, brothers-in-law, sisters-in-law, cousins, nephews, nieces, grandnephews, grandniece and a wide circle of friends, neighbours, colleagues and his beloved cat Athos.

His funeral notice is online here and you can leave a message of condolence for his family: https://rip.ie/death-notice/dr.-matthew-parkes-cabra-dublin/437559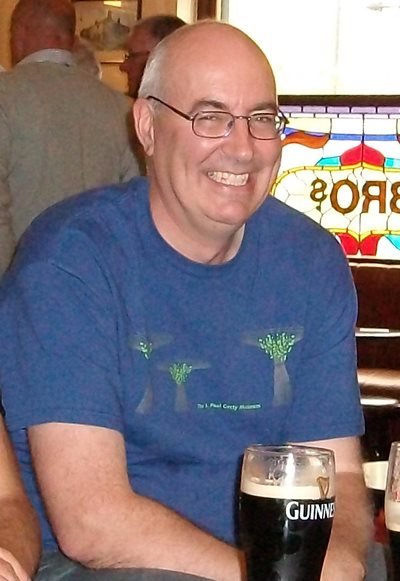 A Geologist's Journey

Matthew joined the staff of the National Museum of Ireland in November 2005, where he worked for the last fifteen years. He had been a frequent research visitor to the Museum since the late 1980s and had used fossils from the collection in his PhD research. He grew up in Flamstead, Hertfordshire, England, attending Longdean School in Hemel Hempstead, followed by a year at St Alban's College, ending up with A levels in Geology and Geography in 1981. After a year studying geology and computing part time at Luton College while working at the Soil Survey of England and Wales, he went to Sheffield University to study Geology and obtained his BSc in 1985.

Exploring ancient oceans

Working for his PhD at NUI Galway brought him to Ireland, and he settled in to explore the small areas of rocks of Ordovician and Silurian age in the Eastern part of the country. Over 450 million years ago these were islands on the edge of a major ocean, separating what is now SE Ireland from the NW half of the island. The fossils on each side of the ocean, while now only an hour's drive apart, were then animals that lived on coastlines 1,000 km apart. Other colleagues in NUIG studied the other side of that ocean. Even before he completed his PhD in 1990, Matthew was working as an Assistant Lecturer and looking after overseas students on summer programmes.

His next posting was to Trinity College Dublin in 1991 as a Research Fellow for two years, followed by short term contract work curating fossils in Geological Survey Ireland, drafting geological maps in ERA-Maptec and doing his own research. In 1992 National Museum Wales was embarking on major geology galleries and he spent a year and a half in Cardiff, standing in for curators to free them up for that project.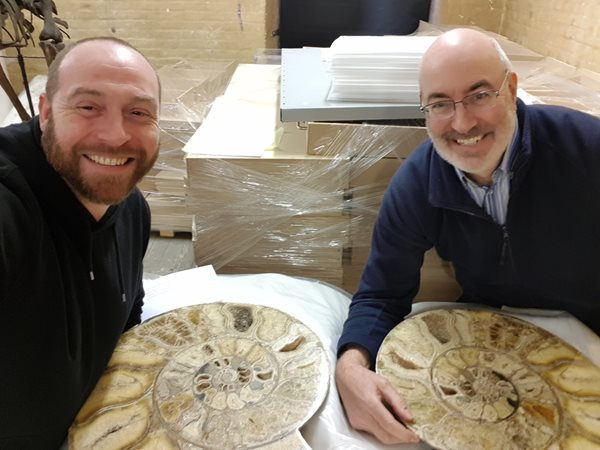 Geological Survey Ireland

Back in Dublin in 1994, he started a contract with Geological Survey Ireland for a thorough curation of their fossil collections. In May 1996, he moved over to work on bedrock mapping for GSI, and spent time working in his own company Geoscapes. From 1998, his work in GSI was focused on their Heritage Programme, setting up a scheme for the assessment and protection of Sites of Special Scientific Interest, something he followed on in a private capacity after he left GSI for a new role in the National Museum of Ireland.

National Museum of Ireland

Matthew took up the post of curator for the geological collections in the Natural History Division of NMI in 2005. On leaving GSI, Matthew stated that he was leaving behind a job he really enjoyed, for one that he wanted even more. NMI was planning major geological galleries at Collins Barracks and the intention was to move there to set up office. Instead, with the shrinking economy and delay of those plans, he ended up with an office in the Natural History Division research building, able to see his old GSI office out his new window. He worked hard on the curation of the extensive national geological collections, capably filling a post that used to be staffed by three people in the 1980s. He built up a reputation in NMI as someone who would help with anything, and who would go out of his way in particular when a young budding geologist would arrive with an enquiry.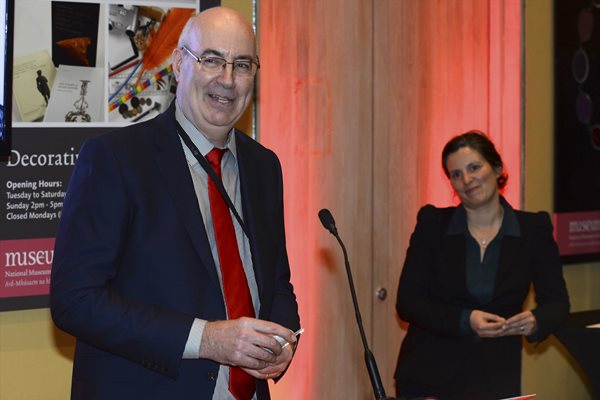 Matthew never considered his education finished and he was always keen to develop his skills and learn more about his craft. An MA degree in Museum Studies was earned at the University of Leicester in 2001 through distance learning, followed by a Diploma in Gemmology. His status as a professional geologist was endorsed in 1998 by the Institute of Geologists Ireland, and the equivalent accreditation of the European Federation of Geologists (EuGeol) achieved in 1999. Matthew was a key player in setting standards of geological curation in museums across Ireland and in the UK, where he sat on the British Geological Survey's National Geological Repository Advisory Committee, and was a long time Editor and later Chair of the Geological Curator's Group.

Among Matthew's many passions was the heritage associated with Ireland's mines, and in 1996 he helped to set up the Mining History Society of Ireland, holding office continually as Secretary, Journal Editor and finally Chair of what became the Mining Heritage Trust of Ireland (MHTI) charitable company in 2000. A great deal of effort in 2019 was put into bring the 21 years of work by the MHTI into a legacy website, so that despite the winding up of the organisation, there is a significant body of knowledge preserved for posterity. He was a Director of Copper Coast Geopark clg, promoting the mining heritage and tourism potential of the Co. Waterford coast.

Matthew was keen to see things published and made publicly accessible. When working on the technical reports relating to geological heritage, he pushed to ensure that these also came out in books and leaflets that were at an accessible level for the average member of the public. Having completed 22 county audits of geological heritage he had many more publications planned. He acted as Editor for journals of the Geological Curators' Group, Speleological Union of Ireland and the Irish Journal of Earth Science of the Royal Irish Academy, as well as contributing regularly to Earth Science Ireland.

The karst landscapes of Ireland, where limestone bedrock is full of fissures and caves, was an area of research interest and enjoyment through caving. Matthew looked after the library of the Speleological Union of Ireland and was an active member of their cave rescue organisation.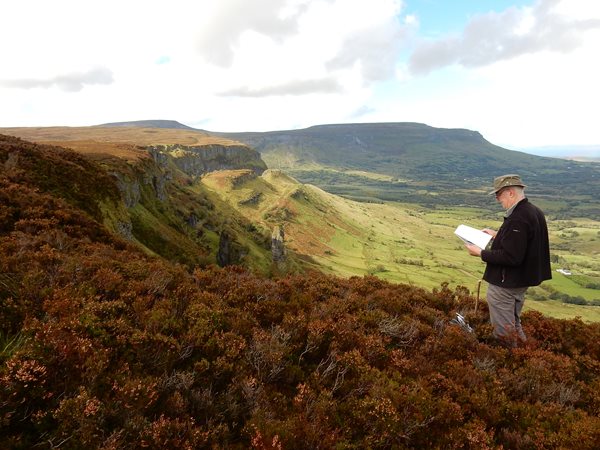 His work at NMI saw a major project to care for the UCD mineral collections, which were no longer used in teaching, and banished to unsuitable stores. With the help of Dr Patrick Roycroft, he pushed for Heritage Council funding that saw the minerals and many rocks and fossils transferred to NMI, rehoused, and documented by volunteers. An Inventory Project team completed their work in 2017 through the main NMI geology collections under Matthew's guidance and resulted in a database that is now a valuable tool for daily collections management and information.

Exhibitions at NMI included Fossils (2006), Our Place in Space (2009), Dead Zoo at Large (2009-10), Natural History Museum redevelopment (2010), Leske Minerals (Munich Mineral Show, 2016), Devonian Plant Fossils – a window into the past (Botanic Gardens, 2018), Jurassic Skies (2018). NMI has been working on a long term strategy towards an Earth Science Museum and a step on that road is to be Down to Earth – Exploring Ireland's Geology, an exhibition in the Riding School at Collins Barracks that marks 175 years of GSI and is scheduled to open early in 2021.


Matthew's impact will live through the great legacy of his work and his spirit and kindness through his colleagues and friends at NMI.

Suaimhneas síoraí dá anam uasal, ní bheidh a leithéid arís ann'
Eternal rest to his noble soul, his like will not be there again

For a day in the life of a curator see Matthew's blog: https://geocollnews.wordpress.com/2018/01/09/six-questions-for-a-geological-curator-matthew-parkes-dublin/