Medieval
Medieval Irish Mether
A ceremonial drinking vessel with body and handles crafted from one piece of wood.
William Wakeman's register entry for this object reads:
'Mether with three handles which are prolonged some distance below the bottom, so as to form legs: there has been a fourth, now lost. Ornament the usual St Andrew crosses and chevron-like scorings. Square at mouth, round at base. Condition bad, much worm-eaten, bottom gone; had originally been hooped with iron at base…locality unknown.' (3021: Wk 173).
What is a mether?
A mether can be described as a two or four handled medieval wooden drinking or storage vessel that typically features a quadrangular mouth tapering to a narrower rounded base. The body and handles were hand-carved from a single piece of wood such as yew, alder or willow, and the production sequence is illustrated here: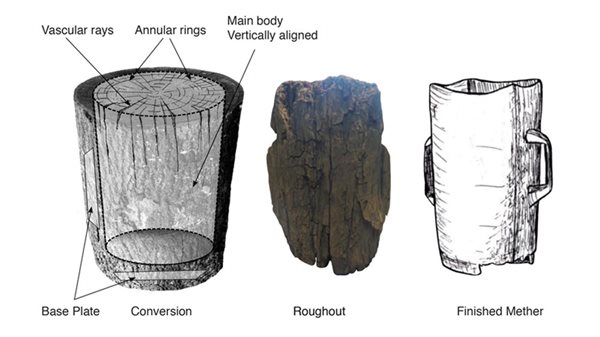 The base plate was made separately and usually inserted from the inside. Some methers had a metal or willow hoop set into an exterior rebate at the base. On the four handled examples the handles sometimes extended below the base to form legs. The surface was often left plain or decorated with incised with linear patterns.
What were they used for?
Feasting was an integral part of medieval Irish society. Wine, ale, mead, broth and milk were consumed with the food. Under the king's or chieftain's direction the four handled mether was passed in a 'full circuit' of the banqueting hall and guests were expected to drink moderately so that the mether could complete the circuit before the contents were drained (O'Sullivan, 2004, 88).


Some of the larger two handled methers were used for food storage. Tributes paid to the Abbey of St. Augustine of Lisgoole consisted of 'yearlie twenty fower methers of butter, and fiftie methers of barlie' (Lowry-Corry, 1938, 224) and several larger methers have been found filled with bog butter. (Downey, Synnott, Kelly and Stanton 2006).

Where were methers found?
Nearly half of the 124 methers in the Museum are known to have originated in the west, south-west and north of Ireland, where many were preserved through deliberate placement in bogs or were probably handed down through Gaelic families within a territory. For the rest, the find place was sometimes not noted on acquisition records or was unknown because methers are portable and were popular with collectors which sometimes meant that information on the origin became lost.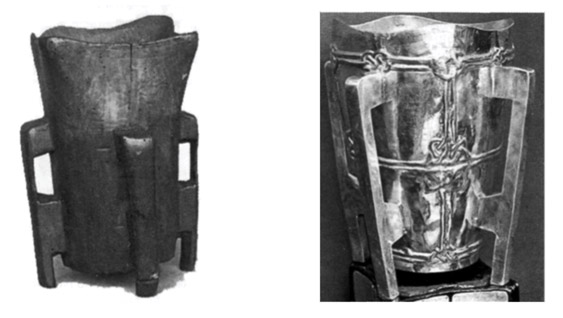 The modern mether
The four handled mether featured in the Celtic revival of late nineteenth and early twentieth-century Ireland. This form was also used in the design of the Gaelic Athletic Association's MacCarthy Cup, made from silver and awarded annually to the winners of the All-Ireland Senior Hurling Championship.

Learn more
Two four handled examples and a roughout (unfinished mether) are on display in the Medieval Ireland exhibition at National Museum of Ireland - Archaeology, Kildare St, Dublin 2.
A medieval example and two neo-Celtic methers are can be seen in the Curators Choice exhibition at the National Museum of Ireland - Decorative Arts & History, Collins Barracks, Dublin 7.
References
Downey, L, Synnott, C., Kelly, E.P., and Stanton, C. Bog Butter: Dating Profile and Location, Archaeology Ireland, Vol. 20, No. 1 (Spring, 2006), pp. 32-34.
Lowry-Corry, D. 1938. Davy's Island church, Lower Lough Erne, Ulster Journal of Archaeology, Vol.1, pp. 222-226. Available at www.jstor.org/stable/20627246 [accessed 1 Feb 2012]
O'Sullivan, C. 2004. Hospitality in Medieval Ireland, 900-1500. Four Courts Press: Dublin.
Location:
---
Medieval Irish Mether is located at:
On Display
---
Previous artefact:
---
Next artefact:
---