19th Century
Three Satsuma Plates
Japanese hand-painted pottery with rich decoration in gold and brightly coloured enamels.
By Edyta Slomka
Although production of pottery was known in Japan since ancient times, examples of early Japanese wares were almost impossible to see before the
Meiji era
. But it is extremely hard to imagine any collection of Japanese ceramics without visually striking and decorative pieces of Satsuma.
Description
Entry for the objects, numbered DC:1897.204-206, recorded at the time of acquisition in the National Museum of Ireland's Ceramic register reads: Plates, Satsuma ware. Two with conventional border in gold, in the centres are figures of a man on a stork holding a sheng or mouth organ, the other a man seated by an elephant finely crackled ware; the third plate is signed by the artist, subject a demon on a panther, shellfish on the ground.

Three Satsuma plates, acquired by the museum in 1893, are only a small part of the collection of Gerald FitzGerald, the Fifth Duke of Leinster (1851-1893).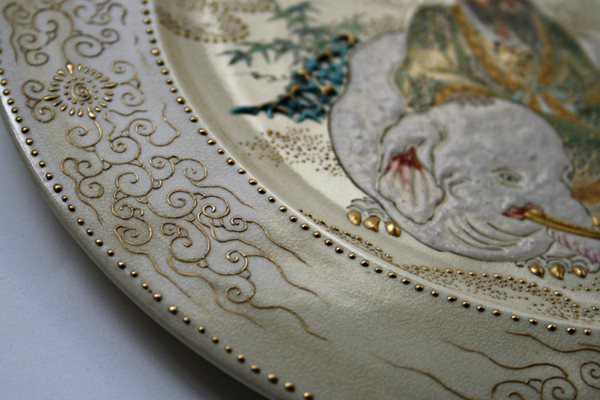 What is Satsuma?
Satsuma is a term used to describe a variety of Japanese earthenware objects produced in Kagoshima Prefecture at the southwestern tip of the Island of Kyushu – region formerly known as Satsuma Province. Although Satsuma pottery was made over the centuries, by various artists and in several kilns, the historical name of the region became synonymous with the product.
Satsuma pieces are made of a white clay and covered with a cream-coloured glaze that has a characteristic crackled appearance – thin, irregular, zigzagging lines, alternating in a matrix pattern across its whole body.

The origin and early history of Satsuma earthenware is uncertain, but its early development is often associated with the influences of Korean potters, settled in the region after Japanese invasion of Korea (1592-98). Early Satsuma was simply decorated or even completely plain and consisted mainly of humble objects for domestic use. From the late 18th century, Satsuma potters started to decorate objects with simple enamelled motifs.

Initial careful designs became more and more elaborate and during the 19th century resulted in the development of iconic – Satsuma nishikide – brocade-patterned Satsuma. Objects of this style were usually skilfully decorated in gold – sometimes in relief, and with multi-coloured, bright overglaze enamels. Typical themes included literary and mythological scenes, flowers, birds and oriental landscapes.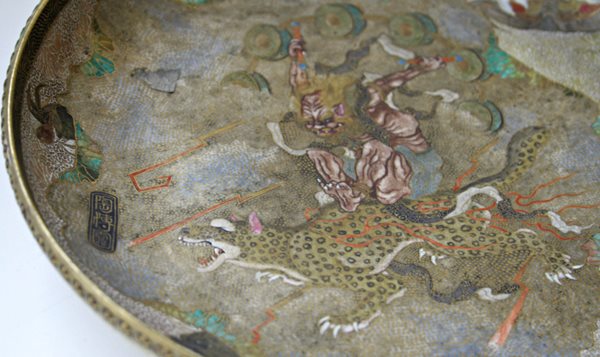 Why is Satsuma so well represented in Western collections?
In the Meiji period the Japanese arts and crafts industry was officially promoted, encouraged and supported by the national and local governments. First shown at the Paris International Exposition in 1867, Satsuma ware was very successful due to its powerful aesthetic and high artistic standards. Insatiable Western markets, constantly in demand for Japanese exotica, flooded workshops with orders and Japanese manufacturers were more than happy to supply the demand. The marketing success of Satsuma pottery during the Meiji era resulted in the rapid increase of production. Unfortunately, to meet this demand Japan started exporting to the West mass-produced Satsuma style wares of a lesser quality.
Learn More
These particular plates are not on public display as they are part of the museum's Reserve Collection. If you wish to see similar objects of Satsuma pottery, visit our Visible Storage facility that includes parts of the Japanese Collection, located on the ground floor of National Museum of Ireland – Decorative Arts and History. To find out more about Japanese decorative arts visit our permanent exhibition: A Dubliner's Collection of Asian Art: The Albert Bender Collection.
References
Fahr-Becker, G. (2006) The Art of East Asia. New York: Konemann.
Jahn, G. (2004) Meiji Ceramics: The Art of Japanese export Porcelain and Satsuma Ware 1868-1912. Stuttgart: Arnoldische.
Pollard, C. (2006) 'Gorgeous with Glitter and Gold: Miyagawa Kouzan and the Role of Satsuma Export Ware in the Early Meiji Ceramic Industry'. In: Conant E. ed. Challenging Past And Present: The Metamorphosis of Nineteenth-Century Japanese Art. Honolulu: University of Hawaii Press.