By Kate Moriarty, Documentation Officer – Art and Industry

The Collections Resource Centre (CRC) is on the outskirts of Dublin City. It houses the reserve collection of the National Museum of Ireland and includes collections from our four curatorial divisions – Archaeology, Natural History, Art & Industry and Irish Folklife as well as part of the NMI's Archive and a small part of our Library.

Someone once said to me "When I think of where you work I imagine this Aladdin's Cave full of wonderful treasures". Everyone's perception of treasure is different. I have seen archaeologists get weak at the knees because of pieces of flint and muddy sherds of metal. I have seen entomologists get excited over mosquitos or bees. I have shown museum professionals from international museums the stores and they are envious of the storage system. These treasures are only accessible to a handful of people, those of us who are lucky enough to work there and researchers who have been granted access through appointment.

When objects are designated to be moved to the CRC, we meet them at the delivery bay and bring them to one of our huge freezers, where they will remain for at least 3 days, depending on what the object is. Of course some objects cannot be frozen, especially those that are made of glass or are varnished. We then make an arrangement with our art handlers to move them to the designated new location. The facility is divided into the collections of the four divisions mentioned. All objects are documented and the new location added to the record in our database.

All archaeological finds in Ireland are destined for our archaeology store. This was stalled during the recession, as there was a reduction in archaeological excavation in line with a decline in construction. This excavation activity is now on the increase again.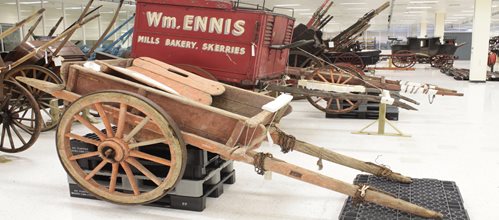 Fig 2: large transport collection

The Art and Industry store contains much of its larger objects, in particular furniture and carriages. A large collection of plastercasts (fictile ivories) is also housed here.


Fig 3: land transport collection

The Irish Folklife Collection is also present in the CRC, although it is 243km away from the Folklife Museum in Turlough Park, Co. Mayo! The Folklife collection stored in the CRC comprises mainly fishing equipment (including boats), farming equipment and 20th century household appliances. It also has a large presence in the transport store, where there are traps, coaches, a horse drawn bread delivery van and a fire tender.


Fig 4: geology (fossils) collection

The Natural History Division has a large presence in the CRC, more so since the decant project, which saw specimens being brought from the Natural History Museum building in Merrion Street to the CRC in order to facilitate major works on the roof. A following article will highlight that exciting project. There is a room full of entomological specimens a million in total, this amounts to a quarter of the entire National Museum of Ireland's objects. The naphthalene used on these specimens in the past still give off a very distinctive aroma. The Natural History Division also includes our zoological and geological collections.

Indeed Natural History is the one Division along with Registration that currently has a permanent office in the NMI side of the CRC. I say NMI side, as we share the building with our colleagues in the National Monuments Service, who hold their Archives there.

So, I guess where I work is an Aladdin's cave, although thankfully this one is more organised than Aladdin's and there would be no need to look for the magic lamp, as we in the Registration Department would know exactly where it is.