Current:

Delicate and Beautiful Japanese Wood-Block Print by Hokusai
1827 - 1830
Delicate and Beautiful Japanese Wood-Block Print by Hokusai
This Japanese wood-block print by Katsushika Hokusai entitled: The Suspension Bridge on the border of Hida and Etchu Provinces (DB:1933.84) is one of eleven prints from the landscape series Views of Famous Bridges in Various Providences (1827 – 1830).
By Edyta Slomka

The original label reads:

Hokusai, Katsuchika (1760-1849). Hanging bridge connecting Hida and Etchu provinces. Wood-block print from the series "Shokoku Meikio Kiran (Bridge) Japan". Dimensions: 38.3 x 26 cm.

This powerful and remarkable Japanese print depicts two workers, weighed down with huge bundles of straw, crossing an incredibly narrow, swinging bridge suspended between two peaks. They are high above the pine trees with soft, cotton-like clouds drifting by. The bridge is extremely dangerous, lacking any handrail, which adds drama to this visually effective composition, proving Hokusai's competence and artistry.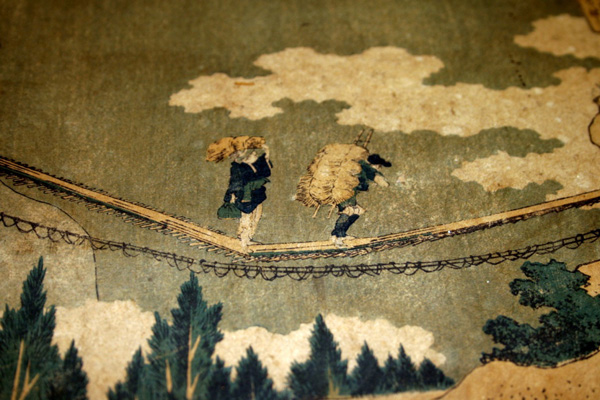 Figure 2: Detail of figures crossing bridge (DB:1933.84)

What is so interesting about Japanese wood-block printing?

Wood-block printing has long tradition in Japan. It was an ancient method of printing ornamental patterns, images and text on textiles and paper. They became popular with the increasing bourgeois class in 17th century Japan as a way to make affordable, good quality, mass-produced art prints and books.


Figure 3: Deer detail of Hokusai print (DB:1933.84)

'Ukiyo-e' was the most popular Japanese printing genre, and it means images of a floating world. Initially these ukiyo-e frequently depicted motifs from classical, literary and historical sources; later themes were expanded to reflect more populist tastes with subjects relating to everyday life, landscapes, nature, portraits of sportsman, kabuki actors and erotic pictures.

The ukiyo-e became the art of the merchant class and they told the many different aspects of urban life in Japan; from their affluent merchant lifestyles to their unfortunate position within the strict social hierarchy of this time.

Towards the end of 19th century, European artists discovered the art of Japanese wood-block printing and become extremely enthusiastic about this technique. Ukiyo-e prints showed something very different, both in content and style. Many of these images lacked realistic perspective. There was a sense of compositional freedom, asymmetry and irregularity, a use of vivid colours and strong contours deeply influenced by European art, especially the Impressionist and Post-Impressionists art movements.


Figure 4: Detail of birds in Hokusai print (DB:1933.84).

How were the Japanese wood-block prints made?

Wood-block printing was a complex process with three to four stages, each one usually performed by a different person. An artist was responsible for painting the design in ink onto a piece of paper. These drawings were then meticulously carved into multiple wood-blocks by carvers, with a separate block for each colour. Printers then inked the blocks with different pigments and printed the final version onto handmade paper, layering one colour over another with each different block.


Figure 5: Detail of Hokusai's artist signature (DB:1933.84)

How did the National Museum of Ireland acquire Japanese prints?

Albert Maurice Bender (1866-1941) was a very successful insurance broker who earned enough money to follow his passion and interest in art. He started collecting books, modern and Asian art and generously supporting San Francisco's literary, musical and artistic circles. Although strongly connected to cultural Californian community, he always remained very proud of his Irish roots, since he was born in Dublin, and throughout his life actively corresponded with leading intellectuals involved in Ireland's Celtic Revival.

In the early 1930s Albert Bender donated a huge collection to the Museum. This consisted of over 260 pieces of Asian art, mostly of Japanese, Chinese and Tibetan provenance. The first public display took place on the 25th of June, 1934 and was officially opened by Eamon de Valera. This collection was arranged in a room honouring Albert Bender's mother entitled 'Augusta Bender Memorial Room of Far Eastern Art'.


Figure 6: Commemorative plaque in the Augusta Bender Room at NMI - Decorative Arts & History, Collins Barracks, Dublin 7.

Learn more…

This particular wood-block print is not on public display as it is part of the museum's reserve collection. If you wish to find out more about Japanese printing visit our permanent exhibition: A Dubliner's Collection of Asian Art: The Albert Bender Collection in the National Museum of Ireland – Decorative Arts and History, Collins Barracks, Dublin 7.

References

Fahr-Becker, Gabriele (2007) Japanese Prints. Köln-London.

Harris, Frederick (2011) Ukiyo-e: The art of the Japanese Print.

Newsom, Iris (2001) The Floating World of Ukiyo-E: Shadows, Dreams, and Substance. New York.

Whitty, Audrey (2011) The Albert Bender Collection of Asian Art in National Museum of Ireland. Dublin.

Location:
---
Delicate and Beautiful Japanese Wood-Block Print by Hokusai is located at:
In Storage
---
Previous artefact:
---
Next artefact:
---