19th Century
Bell from Sheridan's Foundry, Dublin
A nineteenth century foundry cast bell from Sheridan's Foundry, Dublin.
By Noel Campbell
The cast iron bell measures 30cm from top of cannons to lip with a diameter of 34.5cm across the mouth. Two fittings for the headstock measure 17.5cm each. The clapper remains intact. The waist of the bell bears the only inscription which reads, in a circle Js.SHERIDAN.EAGLE.FOUNDERY and underneath in straight lettering the word DUBLIN.
Who were the Sheridans?
The bell was cast at the Sheridan foundry, also called the Eagle Foundry located in Church Street, Dublin. The premises had originally been occupied by another iron founders, the Pounden family, as early as 1755, but was taken over by James Sheridan who re-named it in 1809. James passed it on to his sons, Thomas and George, in 1859. Bells continued to be cast until 1888 when the Byrne Bell Foundry of James Street, Dublin took over bell casting for the Sheridans.

Figure 2: Eagle Foundry commemorative advert
How a bell of this type was made
A mould of an inner and outer shell was firstly made. To do this a core was formed on a core plate by layering loam over a brick infilling. A strickle was run across the loam to smooth the core. The core was then heated to extreme heats of up to 150C to harden it. A perforated bell shaped case with mouth upwards had its interior surface loamed up and dried. It is at this point lettering, trademarks and designs were hand carved into the loam.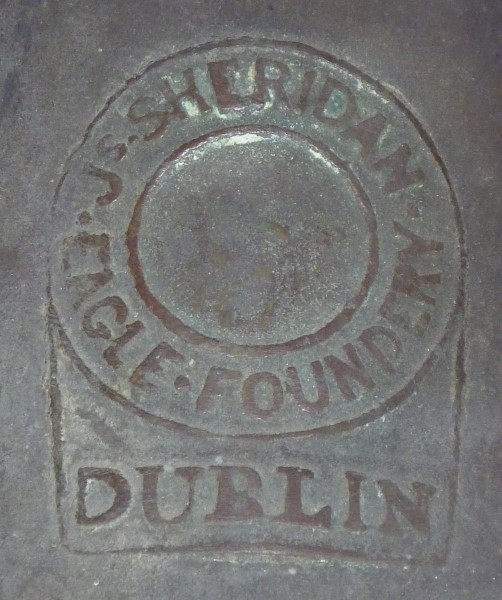 Figure 3: Trademark inscription on bell for Sheridan's Eagle Foundry Dublin (F:1991.217)
A small opening was kept in the case head to allow the bell metal to be poured in. This case was placed over the hardened core and the core plate clamped to it to bind case and core together. The gap between the two formed the bell mould.
Ingot and broken bell were melted in a furnace which reached 1200C before the molten metal was ready to be released down a gutter channel and poured into a large ladle. The ladle was then hoisted above the bell mould and its contents poured in through the opening. The mould was allowed to cool after which time the core plate was unclamped and the hardened core broken out and the bell extracted from the case. Tuning took place after the bell was cast.
Learn more…
This is the only bell of its kind held in the NMI's Folklife Division's reserve collection. The bell is not on public display.
References
Elphick, George (1988). The Craft of the Bellfounder, Sussex: Phillimore & Co. Ltd.
Jennings, Trevor S. (1988). Bellfounding, Princes Risborough: Shire Publications Ltd.
Lewis, C.A. (2002)."Dublin founders of ringing bells". The Ringing World. 7th June (No. 4754,). pp. 565-567, 569.