1979
Patchwork Quilt Cover
A patchwork quilt cover in a style known as "Grandmother's Flower Garden" made by Evelyn M. Booth, a notable amateur botanist and naturalist.
Description of the quilt
The quilt comprises of a series of hexagonal fabric shapes, hand stitched onto a light blue length of sheeting. The blue fabric measures 222cm in length and 174cm in width. The patchwork, centrally placed on the blue fabric, measures 186cm in length and 125cm in width.
The quilt is unusual in that the patchwork does not cover the entire surface area of the sheeting from edge to edge. It has been described by the donor as being akin to a quilt or duvet cover rather than the traditional-style patchwork quilt. The particular patchwork design used on this cover is known as "Grandmother's flower garden".
The design is characterised by a series of hexagonal pieces hand sewn together to make up a flower motif. In this case, six pieces have been sewn around a seventh central piece, to make a flower. These pieces of colourful fabric flowers come together to form a larger area, that make up the flower garden. These were then laid out on a pavement of plain cream-coloured hexagons.


When was the quilt made and by whom?
The quilt cover was made by Ms. Evelyn M. Booth in 1979. The maker's name and the date that the work was completed have been stitched in red yarn onto a central hexagon of the quilt.
Who was Evelyn Booth?
Evelyn Mary Booth was born in 1897 in Laragh, Co. Wicklow, to Hilda Mary Hall-Dare and James Erskine Wise Booth. Through her father's lineage, Evelyn was related to Robert Barton, a signatory of the 1921 Anglo-Irish Treaty, and, Erskine Childers, President of Ireland, from 1973 to 1974.
Her mother came from a well-established Wexford family associated with Newtownbarry House in Bunclody. Evelyn's grandmother, Caroline Hall-Dare, was responsible for establishing the Newtownbarry School of Lace at the end of the 1800s. This style was heavily influenced by reticella work seen in Italy. Examples of Newtownbarry lace exist in the collection of The National Museum of Ireland to-day.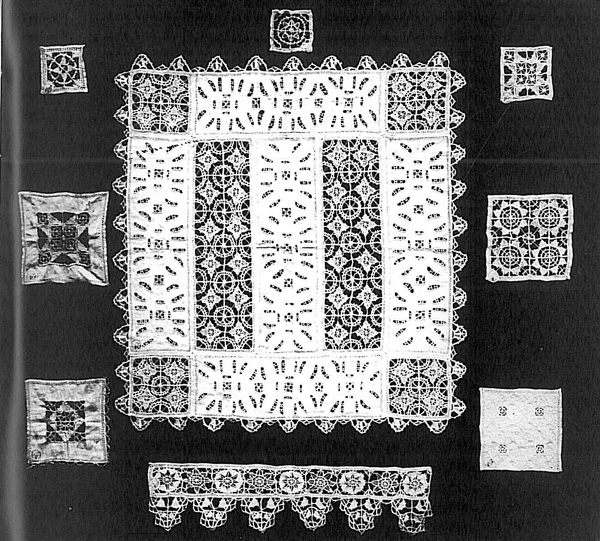 Evelyn was educated in boarding school at Southbourne, England. She served in France as a Red Cross ambulance driver during the First World War, and at a Red Cross hospital in the Second World War. On her return to Ireland, Evelyn set up home at Lucy's Wood close to her ancestral home in Bunclody. With a keen interest in gardening and botany, she laid out an impressive, well stocked garden with a wide range of species. While Booth had varied interests such as fly fishing and needlework, it was as an amateur botanist that she made the greatest impact.
She was a member of the Wild Flower Society from 1939 and dedicated most of her life, until her death in 1988, contributing to botany. For many years she collected seeds from wild plants gathered on various expeditions primarily around Counties Carlow and Wexford. These seeds would often be deposited with the National Botanic Gardens for wider distribution.
Booth's writings on her various botanical finds were published in the Irish Naturalists Journal. More significant however was her text entitled The Flora of County Carlow published in 1979; this was the first Irish county flora to be written by a woman. She was assisted by the donor of this quilt, Maura Scannell.
Evelyn died at her home Lucy's Wood, aged 89.
Learn More
This quilt cover is not on display. It is in the reserve collection at the National Museum of Ireland – Country Life, Turlough Park, Co. Mayo.
See an example of an Irish lace wedding veil and Irish lace embroidery in our artefact section.
Learn more about lace in the collection of the National Museum of Ireland in Longfield, Ada, K., Guide to the Collection of Lace, the Stationary Office, Dublin, 1982.
Evelyn Booth's book is the Flora of County Carlow, Dublin Royal Dublin Society, 1979. Learn more about it on the Royal Dublin Society website.
The Botanic Gardens website offers a brief history of Irish Flora.
References
The Irish Naturalists' Journal, Obituaries, Vol.23, No. 5/6, 1990.