c. early 19th century
Sailmaker's Seam Rubber
Bone seam rubber from Mulroy Bay, Co. Donegal.
By Noel Campbell
Description
The original National Museum of Ireland label for this object reads: "Bone object: use unknown. Found in the sands of Mulroy Bay, Co. Donegal".

The object was subsequently identified by National Museum staff as a Sailmaker's Seam Rubber. This seam rubber was carved from a single piece of bone and measures 10.5cm long, 4.5cm wide at the rubber and 2.0cm wide at the top of the decorated handle. The initial 'N' is etched into the top of the handle. This type of seam rubber was common around the early 1800s.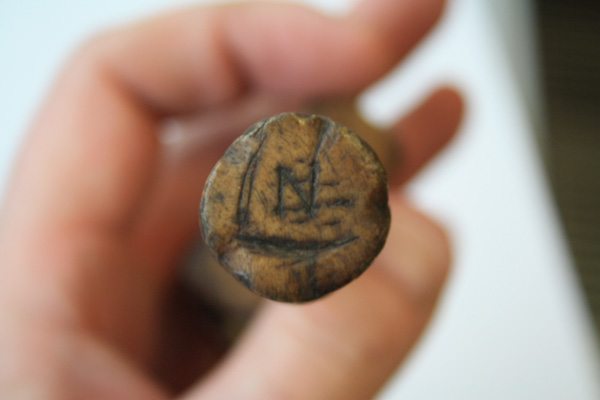 What was this object used for?
The seam rubber is a tool for rubbing or pressing a crease into the sail fabric prior to seaming. To be effective, the seam rubber had to be hard and was usually made from bone or lignum vitae (tropical type of wood). During the sewing of a sail, the edge of the sail is folded and a crease made. This is done by rubbing the seam rubber over the crease a number of times while applying force, in the same way as a paint scraper, so that the crease remains flat on the sailcloth. Once the hem has been creased and rubbed all the way around the hem was sewn up.

Where was this object found?
This sail seam was found at Mulroy Bay in Co. Donegal. The area's inhabitants have a long association with the sea. Evidence of Iron Age habitations have been found on the Mulroy coast. The strategic importance of this coastal area was recognised by the Vikings who attacked the coast during the early medieval period. The strength of the fishing tradition in this area of Donegal was acknowledged by the Congested Districts Board who, at the turn of the twentieth century, chose Mulroy Bay as a location to offer instruction in the building and repairing of boats. Fishing continues to be a major part of Mulroy Bay life with fish farming as a local source of employment.




How did the National Museum of Ireland - Country Life acquire this object?
This seam rubber (1941.635) was originally housed in the National Museum's Irish Antiquities Division. It was transferred to the Irish Folklife Division and is now housed in the reserve collection of the National Museum of Ireland - Country Life in Co. Mayo and is not on public display.

Learn More
Mac Cárthaigh, Críostóir (2008) Traditional Boats of Ireland, Cork: The Collins Press.