We offer a range of resources for schools which you can use at the museum, at home or in the classroom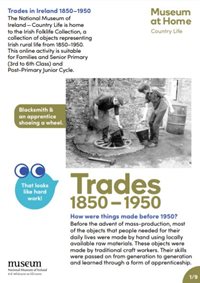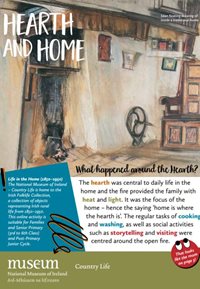 ---
Primary and Post Primary Learning Resource
This learning resource will help you explore the first two floors of the Museum, Levels A & B. The main themes covered are: Aran Island clothing, the Irish Folklife collection, Romance & Reality, Continuity & Change, the Times, the Natural Environment, Housing and Materials.

The teacher's notes give additional background information and answers to Student Workbook 1.
---
Object Fact Sheets
Click on the factsheet link available in Irish and English.
There is a handling table full of interesting objects for you to touch when you visit the National Museum of Ireland – Country Life. Find out all about these objects by reading the fact sheets below.

Others in the series
---
General Activity Sheets
---
Make and Do....
Click on the image for instructions of how to make St. Bridget's Crosses & St. Patrick's Badge. To learn more about these festivals click here
---
Discover Ireland's Past through English for students of the English Language:
---
Find Out About....
Click on the worksheet images on how we celebrated, the work people did, what we wore in the past. Also information on straw, hay & rushes and the house building project.
---
Preserving the Peace Learning Resources
Exhibition Information Panels:
Introduction (1023KB, Adobe .pdf)